About Our School
Welcome to our Dojo Kyle Jiu-Jitsu website and we appreciate the opportunity to serve you and your family. Our martial arts instructors and program directors are standing by to assist you on enrolling into a program that is the perfect fit! Dojo Kyle is located in Downtown Kyle, TX. We offer elementary aged martial arts classes (5-15), as well as adult Brazilian Jiu-Jitsu and Judo. Dojo Kyle Jiu-Jitsu founder Ryan Shinto opened the school in 2011 while working as a full-time teacher in the Lockhart School District with a goal of helping students improve their confidence, focus, self-discipline, and fitness- as well as giving them the tools they need to protect themselves. Thank you for visiting the DKJJ website and we hope to see you soon!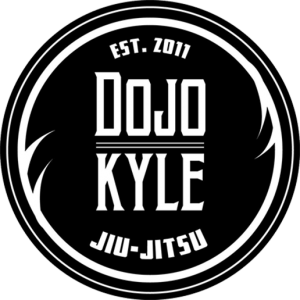 Meet Martial Arts School Owners Will Caldwell and Ryan Shinto
With a passion for helping community members stay safe while teaching the "art" of martial arts, our Instructors believe that each student can obtain their goals and objectives in life. While teaching techniques that save lives with life skills that work both on and off the mat. Our students get the best instruction possible in Kyle & Buda, TX.
Why Choose Dojo Kyle Jiu-Jitsu?
Learn Self-Discipline
The foundation of martial arts is the focus of self-discipline incorporated into a students training. Instant gratification and the "I want it now" attitude hold people back from achieving true success. Self-restraint and self-discipline are learned traits for both children and adults. And they are central to what and how we teach.
Develop Self-Esteem
With confidence comes enhanced self-esteem. We utilize a goals based approach that boost self-esteem levels. This creates greater self-respect and self-esteem in our martial arts students.
LISTEN TO WHAT OUR HAPPY PARENTS ARE SAYING
I hold a Black Belt in a previous martial art, but had not trained in 12 years. Getting back in to a martial art that was very different from what I had experienced before while being an overweight 45 years old, was concerning for me.

I have attended Dojo Kyle Jiu-Jitsu for a couple of years now. Let me just say that I feel that I am part of something special. Will, Ryan and my fellow students are incredibly supportive, welcoming and motivated to help me improve every time I attend. I will say here, "Thank you all". I do my best to follow the examples you lead.
My 8 year old son and I both attend Dojo Kyle as beginners and love it. He had tried a different martial art I grew up in but the local school was not for us (and his ADHD). This place is perfect because he is constantly doing something, so his mind does not wander, usually with a partner. He never wants to miss class and its great that we both go because he loves to practice at home. The instruction is great and it is a fun way to stay in shape.
Love this place! Have been going since 2012. Ryan and Will are so patient with the kids and the students respond so well to them. Ryan and Will have always made extra time to make sure the students not only understand the techniques, but are confident and respectful
Like Us! Let Everyone Know!