About Our School
Welcome to our Dojo Kyle Jiu-Jitsu website and we appreciate the opportunity to serve you and your family. Our martial arts instructors and program directors are standing by to assist you on enrolling into a program that is the perfect fit! Dojo Kyle is located in Downtown Kyle, TX. We offer elementary aged martial arts classes (5-15), as well as adult Brazilian Jiu-Jitsu and Judo. Dojo Kyle Jiu-Jitsu founder Ryan Shinto opened the school in 2011 while working as a full-time teacher in the Lockhart School District with a goal of helping students improve their confidence, focus, self-discipline, and fitness- as well as giving them the tools they need to protect themselves. Thank you for visiting the DKJJ website and we hope to see you soon!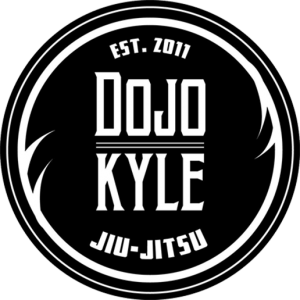 Meet Martial Arts School Owners Will Caldwell and Ryan Shinto
With a passion for helping community members stay safe while teaching the "art" of martial arts, our Instructors believe that each student can obtain their goals and objectives in life. While teaching techniques that save lives with life skills that work both on and off the mat. Our students get the best instruction possible in Kyle & Buda, TX.
Why Choose Dojo Kyle Jiu-Jitsu?
Learn Self-Discipline
The foundation of martial arts is the focus of self-discipline incorporated into a students training. Instant gratification and the "I want it now" attitude hold people back from achieving true success. Self-restraint and self-discipline are learned traits for both children and adults. And they are central to what and how we teach.
Develop Self-Esteem
With confidence comes enhanced self-esteem. We utilize a goals based approach that boost self-esteem levels. This creates greater self-respect and self-esteem in our martial arts students.
LISTEN TO WHAT OUR HAPPY PARENTS ARE SAYING
Love this place! Have been going since 2012. Ryan and Will are so patient with the kids and the students respond so well to them. Ryan and Will have always made extra time to make sure the students not only understand the techniques, but are confident and respectful
This is a great place to train and learn. Coach Will and Coach Ryan do an excellent job of creating a positive, friendly, and family oriented environment for adults and kids. The kids class not only works on learning Brazilian Jiu-Jitsu but also learns positive life lessons that encourage self-respect and respect towards their peers and adults.
I am one of those overprotective parents. I want to bash the faces of every child that has ever hurt any of mines. As parents, it is our duty to protect our children and make them feel safe...but the reality is that with certain situation we are helpless. We cannot be by our children's side 24/7 to protect them.

Too many times have we experienced our children easily bullied at school, on the school bus, at the park or places that they will encounter other children and even at family gatherings. Unfortunately, as parents we cannot go smacking other children for hurting ours without ending up behind bars...so the next best thing would be to give your child the tools they need to defend themselves.

We decided to finally enrolled our two oldest age 11 and 6 after many years of constantly being bullied. Honestly, it was one of the best decisions we made. Coach Ryan and Coach Will are the best! They teach the student good sportmanship, respect the students and teaches them to respect eachother, they take extra time for those who needs it, they encourage the students and have tons of patience. Even as a parent I am lacking in patience compared to Ryan and Will. ? We truly appreciate all the others that stick around to help out as well. There is no lack in helpers at Dojo Kyle.

I highly recommend you enroll your child at Dojo Kyle if you are seeking for some type of martial arts for self defense for them. My children are learning and training how to get out of real life situations and if you have daughters...be wary of what they will encounter as they get older. And if you are wondering if this training will help or will you be wasting your money and time investing in it. The answer is...YES it will truly help. Sometimes it's their only line of defense.

My 11yr old has already defended herself from a boy at school. He is taller, stronger and much bigger than her. She manage to use her osoto move that she was taught to quickly take a boy at her school down and avoided further assault from him. Yes! It was a proud moment for her father and I. The boy was suspended after further investigation. It turns out that my daughter was not the first student he pushed, kicked and punched.

I cannot wait to see my children's progress in the near future...I am 100% confident that Coach Ryan, Coach Will and everyone else at Dojo Kyle will see my girls through and eventually I can let my guard down a little knowing that my babies will defend themselves when they need to. We are definitely making BJJ a lifestyle for our children and eventually our two other younger ones when they are ready.

Thank you everyone at Dojo Kyle for making us feel welcome and bringing out the warrior in our children.
Like Us! Let Everyone Know!